Tens 2-In-1 Physiotherapy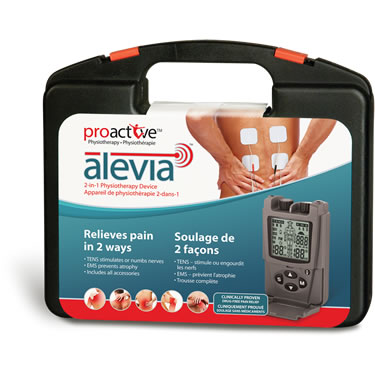 The TENS 2-in-1 Physiotherapy Alevia™ by ProActive™ is a 2-in-1 (TENS and EMS) device that gives you the ability to fully customize treatment options or choose one of the 18 pre-set programs. It has a large, easy-to-read LCD and includes all accessories.

The Alevia™ comes complete with 4 self-adhesive, pre-gelled and reusable electrodes, one 9 V battery, lead wires, instructions and a carrying case.

 The Alevia™ Dual channel TENS Electro-Stimulator relieves pain in 2 ways:
TENS (Transcutaneous Nerve Stimulation) stimulates or numbs nerves


EMS (Electrical Muscle Stimulation) prevents atrophy
Alevia™ is a 2-in-1 Physiotherapy Device:
18 pre-set programs


Customize treatment options that can be set manually according to your doctor's specifications.


Durable plastic carry case keeps your Tens unit and accessories organized.


2 lead wires with built-in guard to protect against wire splitting


4 easy to apply reusable self-adhesive comfort gel electrodes


One 9V battery


Clinically proven drug-free pain relief


Fully customizable: Set intensity to suit your comfort level.


Integrated Customizable timer: Settings range from 5 to 60 minutes for optimal treatment.


Large easy-to-read LCD that makes it easy to select the right settings for you.
Helps relieve pain from: Arthritis, Sciatica, Neck & shoulder pain, Leg, knee & foot pain, Lower back pain, Carpal tunnel syndrome, Whiplash, Groin strain, Fibromyalgia, Plantar Fasciitis, Tennis & golfer's elbow, Diabetic neuropathy, Degenerative disk pain, and more!