Zorbi Bedpan/Commode Liners - Box/12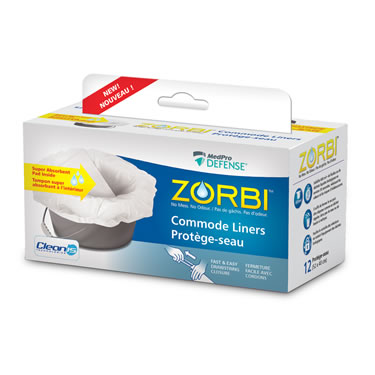 Zorbi Bedpan/Commode Liners - Box/12
---
Terms and Conditions
Shipping: 2-3 Business Days for Most Products
Never clean a commode pail or bedpan again.
ZORBI™ bags are easy and efficient way to dispose of liquid human waste while minimizing its contact with equipment and staff.
All ZORBI™ bags contain a water soluble pad of ZORBI™ made from Super Absorbent Powder.

In as little as 30 seconds after contact with liquid the super absorbent sachet expands to contain 600 ml of organic liquids and waste, which reduces the risk of splashing and spills during transport and locks in odours. 
Bags have drawstrings for safe and secure disposal.
Protects staff and equipment.


Fits most bedpans and commode seats


ZORBI™ hygienic bags contain a water soluble pad of super absorbent powder.


Helps control infections and saves staff time.


Blocks odors.


Convenient and easy for staff, caregivers and environmental services to use


Improves quality of care and quality of life.


12 per box