ComfortCare Golden Lift Chair 6-year Protection Plan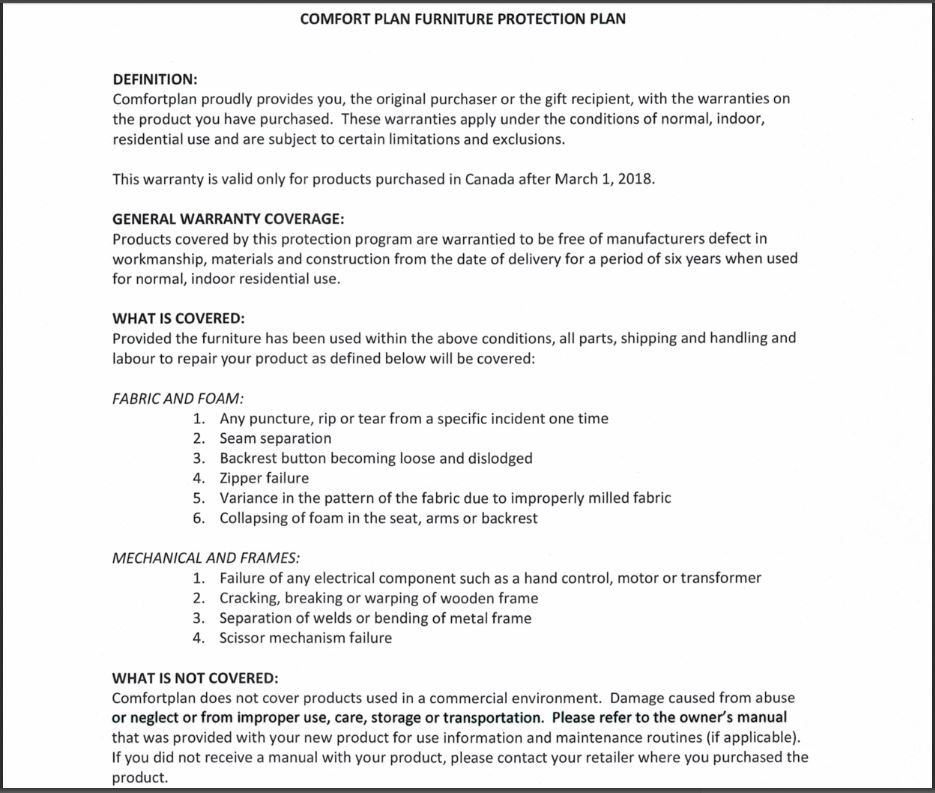 ComfortCare Golden Lift Chair 6-year Protection Plan
---
Terms and Conditions
Shipping: 2-3 Business Days for Most Products
6-year Comfort Plan Furniture Protection Plan for your new Golden Lift Chair.
Products covered by this protection program are warrantied to be free of manufacturer's defects in workmanship, materials and construction from the date of delivery for a period of 6 years when used for normal, indoor residential use.
What is covered:
Provided the furniture has been used within the above conditions, all parts, shipping and handling, and labour to repair your product as defined below will be covered:
Fabric and Foam:
1) Any puncture, rip or tear from a specific incident (one time)
2) Seam separation
3) Backrest button becoming loose and dislodged
4) Zipper failure
5) Variance in the pattern of the fabric due to improperly milled fabric
6) Collapsing of foam in the seat, arms or backrest


Mechanical and Frames:
1) Failure of any electrical component such as a hand control, motor or transformer
2) Cracking, breaking or warping of wooden frame
3) Separation of welds or bending of metal frame
4) Scissor mechanism failure
What is not covered:
Comfortplan does not cover products used in a commercial environment, damage caused from abuse or neglect, or from improper use, care, storage or transportation.  Please refer to the owner's manual that was provided with your new product for use information and maintenance routines (if applicable).  If you did not receive a manual with your product, please contact your retailer where you purchased the product.