MedPro Sonair Ultrasonic Mesh Nebulizer - (24 hour initial charge time)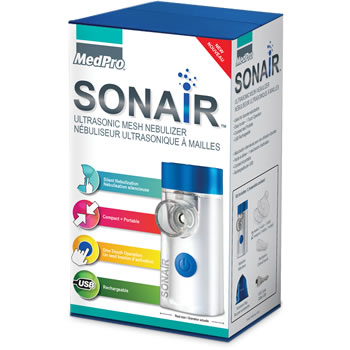 MedPro Sonair Ultrasonic Mesh Nebulizer - (24 hour initial charge time)
---
Terms and Conditions
Shipping: 2-3 Business Days for Most Products


Sonair™ nebulizes liquid medication, providing ultra-fine mist that permeates the lungs faster for convenient and effective respiratory treatment.

Silent and Discreet Nebulization


Compact + Portable


One-Touch Operation


Rechargeable

Nebulizer kit includes: 1 adult and 1 child mask, mouthpiece, USB cable, Accessory bag, Quick start and Instruction manual.


FAQs

Q: Is Sonair use contraindicated with any medications?
A: Yes - Sonair should not be used with Pentamidine - Patients with Pulmonary Edema,Acute Asthma, and Acute Pulmonary Infarction Episodes should not use Sonair.

Q: What is the maximum medication capacity?
A: 10 ml.

Q: Is there a minimum medication quantity requirement?
A: Yes, the minimum quantity should be at 0.5 ml in order for the medication to have contact with the mesh.

Q: Can Ventolin (salbutamol) be used for nebulization?
A: Yes - Ventolin (salbutamol) has been tested and is ok to use.

Q: Can Sonair be used with Pulmicort?
A: Yes - Pulmicort was tested and can be used with Sonair.

Q: Can Sonair be used for Sputum Inductions?
A: Yes, Sonair can nebulize hypertonic saline solutions for sputum inductions (diagnose tuberculosis and other lung infections)

Q: Are the Compressor and Sonair Nebulizers compatible with DMSO?
A: No

Q: During nebulization should you be seeing any condensation when using Sonair?
A: No, you should not be seeing condensation. When the mesh is not cleaned properly after each use, the micro holes get blocked and that causes condensation


This is a preview of the recently viewed products by the user.
Once the user has seen at least one product this snippet will be visible.
Recently viewed Products