CB2 Salve 60ml (archived, buggy, added on hands when selling instead of subtracting)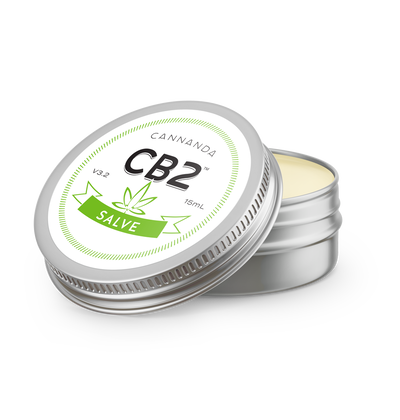 CB2 Salve 60ml (archived, buggy, added on hands when selling instead of subtracting)
This product is no longer available.
---
Terms and Conditions
Shipping: 2-3 Business Days for Most Products
The Legal, Non-Prescription Alternative for Fast Topical Relief for Pain

The single most-requested product in 2018-2019 from our community was a topical version of our CB2

™

 Wellness terpene blend, and so we present our luxurious CB2™ Salve.

Each tin contains our multi-award-winning, physician-formulated CB2 terpene blend in a base of organic shea butter, with sweet peppermint essential oil that smells delicious!

While most use CB2™ Salve as a legal, non-prescription alternative to topical cannabidiol (CBD) products, many also use it as a base to add their own CBD or cannabis oils. As you may know, CBD is the popular cannabis compound that has significant health benefits, but lacks the intoxicating effects of its sister compound, THC. This means you get a number of incredible health benefits without feeling "high," and it delivers these benefits by positively influencing the endocannabinoid system (ECS; the body's master regulator of homeostasis).

Ingredients
Organic shea butter, Cannanda's proprietary CB2™ terpene blend (100% natural terpenes extracted from botanical sources), organic peppermint essential oil, organic carnauba wax.