Carefoam Tilt Rollabout Chair w/Australian Lambswool Cover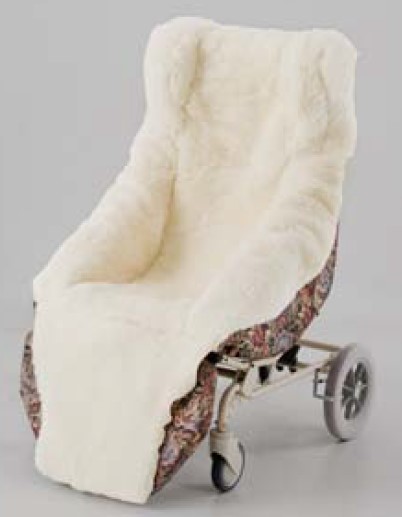 Carefoam Tilt Rollabout Chair w/Australian Lambswool Cover
---
Terms and Conditions
Shipping: 2-3 Business Days for Most Products
The Carefoam Tilt Rollabout is a truly unique tilt-in-space chair. The gas-cylinder assisted tilt system is infinitely adjustable, enabling the resident to be positioned from upright to a comfortable recline. Family and staff appreciate the large wheels that are suitable for indoor and outdoor use. The Tilt Rollabout is especially recommended for those residents needing frequent position changes to reduce the possibility of tissue breakdown. The exclusive sling-back design provides lumbar support and thoracic stability, and the seating area is lined with memory foam. The adjustable leg rest is ideal for residents with contractures or for those who need maximum lower limb elevation. The Tilt Rollabout's dimensions and full-upright capability encourage use at the dining or activity table. 
>> One-step brake operation.
>> Genuine Australian lambswool comfort covers (machine washable) offer superior skin care and comfort.
>> Crypton® upholstery fabric (two pattern choices) is water repellent, stain resistant and antibacterial.
>> Carefoam covers are treated with Ultra-Fresh® for antibacterial and freshness protection.
>> Incontinence-proof seat insert is antibacterial SoffTICK® with welded seams.
>> 12" rear wheels and 6" front casters ensure easy maneuverability, indoors and outdoors.
>> Fabric and foam meet fire retardancy requirements of the California Technical Bulletin 117.
>> Limited Manufacturer's Warranty - 3 years on all components except covers. Covers guaranteed free from defects upon delivery. Please follow care and laundering instructions.
!!!  Note: Because the leg rest extends forward of the front casters, the Tilt Rollabout is best suited for those clients who cannot or will not crawl out over the leg rest. 
!!! Important: NO CHAIR CAN TOTALLY PREVENT FALLS. CHAIR USERS SHOULD BE SUPERVISED AT ALL TIMES.