Fisher & Paykel Simplus Full Face CPAP Mask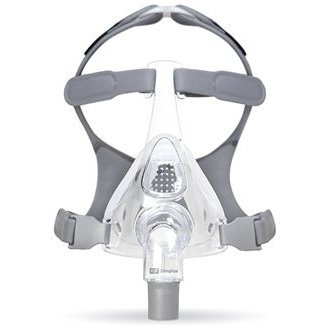 Fisher & Paykel Simplus Full Face CPAP Mask
---
Terms and Conditions
Shipping: 2-3 Business Days for Most Products
The Fisher & Paykel Simplus Full Face CPAP Mask with Headgear brings an easy to use format to the reliable features found on Fisher & Paykel masks. With only 3 main parts the Simplus is lightweight and can be quickly taken apart for care and cleaning. 
RollFit Seal - As the name suggests, the one-piece seal "rolls" back and forth on the bridge of the nose to adjust automatically In doing so, the RollFit Technologuy reduces pressure on the bridge of the nose. 
ErgoForm Headgear - This breathable, ergonomically designed headgear self-locates high on the rear of the head, allowing for unrestricted head movement (sideways, up and down). 
Easy Frame - The low-profile frame is stable, durable and small, an ensures a clear line of sight. The one frame fits all three seal sizes and has an Easy-Clip Frame Attachment to aid assembly after cleaning. 
This product includes: 
RollFit Seal
ErgoForm Headgear
Easy Frame
Swivel 
New CPAP user or not happy with your current mask?  Please Call us to schedule an appointment with a Certified Fitter.